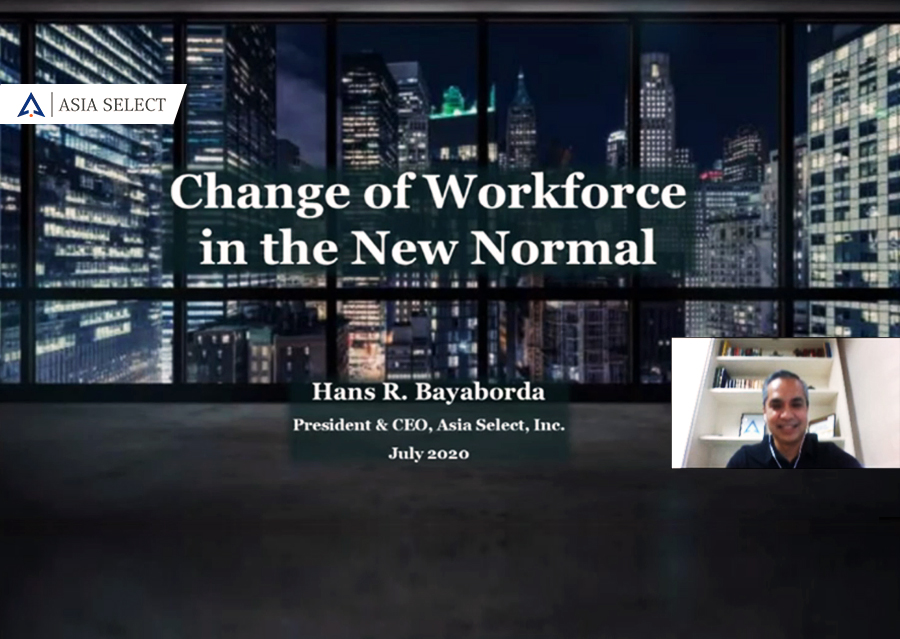 Prior to the pandemic, organizations were growing, flourishing, and driving change; it was a period wherein business was usual for most. As disruptions and uncertainties rose from the pandemic, industries need to transition and thrive in a new environment.

From changing mindsets to adapting new technologies, both professionals and organizations are experiencing challenges in the new normal—challenges that involve adapting new technologies and maintaining employees' productivity.

Being a thought leader in digital transformation and talent acquisition, Asia Select President and CEO Hans Bayaborda came up with valuable business insights that would help organizations empower employees and navigate better in the new normal. The following insights were presented during the webinar hosted by the German-Philippine Chamber of Commerce and Industry

1. Adopt a growth mindset
"Change from a know-it-all company—where leaderships know all the answers—to a learn-it-all-company where we seek to understand and bring out the best from our people," according to Hans.

In shaping the organization in the new normal, it is essential for the leadership and their teams to plan for a comeback. The only way to bounce back is to have a growth or a resilient mindset. Both leaders and their teams should have a desire to learn and be better every day. They must embrace challenges to be able to fail fast and recover. Having this mindset enables them to learn from each other and collaborate better moving forward.

2. Craft a company culture embracing technology
On the declaration of the community quarantine, remote work has been essential yet a challenge to companies who are new to the setup. The majority of small and medium-scale organizations were challenged to provide employees with the following minimum remote work essentials overnight following the government's mandate: (1) laptop, (2) phone system deployment (3) document approval and signing digitization (3) document management and sharing, and (4) an application to create live events (i.e., team meetings, town halls, remote training, etc.).

The overnight digital adaptation created a path towards a company embracing the concept of tech intensity. Tech intensity is a key competitive driver that describes a company's ability "to adapt to latest and most effective solutions and platforms that will build digital capabilities, change business model, and shape the new normal. The key to differentiation and long-term success of every organization is to exert effort to become at least a tech company that will continually develop innovative solutions to generate new opportunities, and drive growth and profitability," as said by Hans.

3. Engage with employees more than ever
Since the onset of remote work, maintaining employees' productivity has been a challenge to organizations. According to Hans, "we need to motivate, empower, and keep our teams engaged." The leadership team will have a crucial role in understanding people's motivation and keeping them intact with the organization's new direction.

Remote employees will have the tendency to feel they're left out of the loop; it is important for managers and even C-suite officers to prioritize communication by keeping them in the loop with important company news and announcements by scheduling daily or weekly check-ins.

Team members can express anxiousness, especially when overwhelmed with both work and personal matters. Leaders should be able to listen, understand their situation, and remind them they are not alone especially during these uncertain times.

Providing training opportunities can spark employees' interest and develop better employee engagement, while words of appreciation, commendation, and recognition from leaders can increase employees' motivation.

4. Hire the drivers of transformation
Businesses need to get back on track. Transitioning to the new normal is critical; having the right people onboard can address the radical changes happening simultaneously.

During these times, hiring new people may not be a priority for some organizations, but it important to have a recruitment plan intact. From the interview process up to the onboarding, the company's HR team should have detailed processes and procedures in place to successfully recruit right-fit individuals.

Knowing the kind of workforce is the first part of the recruitment plan. Apart from having the right skill sets, professionals who share the same values with the organization and having a growth mindset are the perfect candidates who will be the catalysts (or drivers) of transformation in the organization. These catalysts of change will embrace the new challenges and yield positive results as the company moves forward.


As companies bounce back in the new playfield, it is crucial to be reminded that their people are the drivers of change. "It's not all about digital; it's all about people, culture, and values that will give the company with directions to navigate in the new normal," as stated by Hans. Technology only becomes the true enablers when organizations are able to foster a nurturing environment that empowers and motivates the workforce.


By: Allanah Paragas