By: Allanah Paragas

With the rapid growth of digital transformation in various companies across industries, starting your career as a Software Engineer bounds you to many job opportunities and even career progression.

As you head over to JobStreet, Monster, LinkedIn, and even on the Asia Select Career Hub, you would notice there are thousands of available jobs all over the Philippines for professionals who are well-rounded in designing, coding, testing, and debugging of various software systems. The number of job vacancies alone is a good indicator that the age of Software Engineering is at its peak because of the growing demands from companies across industries.

Despite knowing the possible job opportunities as a Software Engineer, the next question would be: would you fit the qualifications and requirements employers are looking for?

Whether you are a junior or senior Software Engineer, we recruitment headhunters are here to guide you on how you can prepare yourself as you start or grow in your career.

Here's a list of insights we can share with you as you plan #YourNextChapter as a Software Engineer:


What does a Software Engineer do?
Based on various job descriptions from our multinational and local clients, Software Engineers in the Philippines are expected to:
Design, code, test, and debug software systems under the direction of the project manager or team leader.
Develop applications per detailed specifications using specified programming languages, tools, and techniques.
Deliver unit-tested systems timely that meet specification functionality requirements.
Troubleshoot technical problems and provide technical support on developed systems.
Research new developments in hardware and software and be updated with the latest developments on effective procedures, methods, and tools in software development and testing.
Collaborate and work with teammates to define detailed specifications for specific system and sub-system functionality requirements.

What are the usual tools, languages, and methodologies used by Software Engineers?
Majority of the Software Engineers use .Net, JavaScript, CSS, and HTML as their main tools or languages; while for methodologies, they often use Agile (i.e., Scrum) and Waterfall.


What is the difference between a Software Engineer and a Software Developer?
Software Engineer design, develop, test, evaluate, and maintain the computer software. They are more on the systematic side who oversee the overall process.
Software Developers work on the development of software. They are more on the creative side by focusing on the codes that will run the software.
In the Philippines, there's a case to case basis wherein there's a hybrid or a mix of responsibilities between the two job roles.


What are the in-demand jobs for Software Engineers in the Philippines?
The most sought-after jobs for Software Engineers in the Philippines are Full-Stack Developer, Front-End Developer, and Back-End Developer for both local and multinational companies.
Full-Stack Developers work with both the front and back ends of a website or application by handling projects that involve databases, building user-facing websites, or even working with clients during the planning phase of projects.Front-End Developers and Back-End Developers work closely together to make the user interface (UI), design, and code in sync. Front-End Developers are usually at the client side who are in-charge of building the UI and design of websites or applications that users see and interact with. Back-End Developers, on the other hand, are more on the server side who focus on building the "under the hood" parts that users do not usually interact with; they focus on building the code that will make websites or applications run.


What are the companies or industries in the Philippines currently hiring Software Engineers?
Given the digital transformation initiatives of companies all over the world, Philippine-based companies are also keeping up with the global tech trend. Organizations belonging to the IT-BPM (such as Shared Services, BPO), FinTech, E-Commerce, Manufacturing, and Power & Utilities are looking for junior and senior Full Stack Developers, Front-End Developers, and Back-End Developers.


How much does a Software Engineer earn?
Based on the data gathered by Asia Select recruitment headhunters in 2021, the salary range of an entry-level Software Engineer in Philippines is between ₱20,000 – ₱45,000 depending on the company or industry. Multinational companies, like shared service centers, usually offer higher pay versus local corporations.

Experienced Software Engineers with a handful of knowledge in different technical tools and who handled multiple projects have the advantage of getting a higher pay.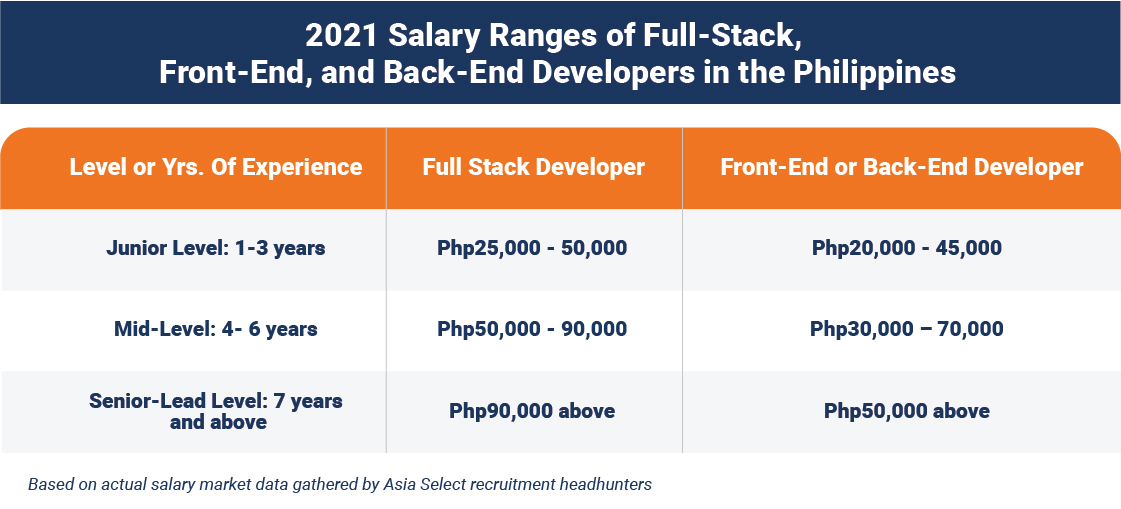 How is the career growth for Software Engineers in the Philippines?
The career growth or progression of Software Engineers in the Philippines is positive. Majority of the companies in different industries are in need IT professionals who are ready to take on the challenges of fast-paced work environments.
Companies in the Philippines are always on the lookout for Software Engineers who are either Full-Stack, Front-End, or Back-End Developers who can be top candidates for their available jobs.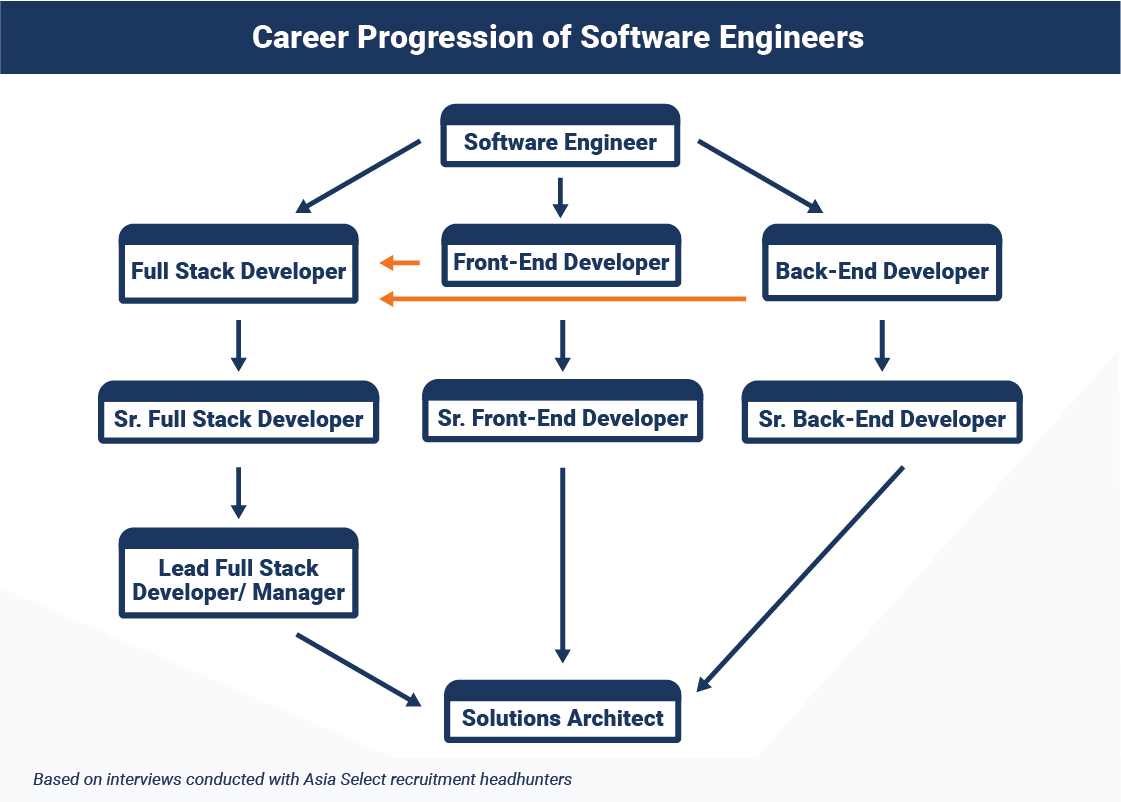 Front-End and Back-End Developers can also change their career track to be a Full Stack Developer given they have the technical knowledge and skills needed in the end-to-end development stage of a software.


How can a Software Engineer get promoted or have a career growth?
Building expertise and skills and accomplishing different projects are important for Software Engineers. For Full Stack Developers aspiring to be Solutions Architects in the future should prioritized building or enhancing their soft skills (or people skills) in the long run. Front-End Developers and Back-End Developers can also be Solutions Architects given they have mastered the end-to-end development stage and have the necessary soft skills as well. Reaching out to us recruitment headhunters is also a way to explore job opportunities for career growth. As headhunters, we are always on the lookout for top talents who we can help land in a better job opportunity.
What are the non-technical skills (or the soft skills) that Software Engineers need to have?
As you grow in your role, more responsibilities will be added. Such responsibilities include collaboration with other teams, stakeholders, and even clients. One of the most important non-technical skill you need to hone is your ability to communicate or convey ideas or processes very well especially when you are working in a multinational environment such as BPOs and Shared Service Centers.
If your goal is to be a Solutions Architect someday, being able to deep dive on the industry and the company's business objective is an important task you need to ramp up your technical and people skills.

*Interviews with Asia Select recruitment headhunters, Jason Gumabao, Fab Javier, Zake Literal, and Aaron Ricafrente, were conducted on June 2021.


You can also read: